We at Kansas SCBWI are proud to have kicked off the fall conference season. If you are among the poor unfortunate souls who missed us,
or you are anxious for more SCBWI conference opportunities, here are a few more Midwest conference opportunities:
The Iowa Region Presents
Its Fall 2009 Conference
Three Days of Exciting Events and Programs
Facebook, Twitter, Websites and More!
The AIRPORT HOLIDAY INN
DES MOINES, IOWA
FRIDAY AFTERNOON WORKSHOP, OCTOBER 23
SATURDAY, OCTOBER 24
SUNDAY, OCTOBER 25
REGISTER FOR ONE, TWO OR ALL THREE DAYS
Steven Meltzer, Associate Publisher/Executive Managing Editor,
Dutton Children's Books and
Dial Books for Young Readers
Sara Reynolds, Art Director and Vice President,
Dutton Children's Books
Yolanda LeRoy, Executive Editor, Charlesbridge
Stephen Barbara, Literary Agent, Foundry + Media
Jenn Bailey, Author and Media Networking Expert
Rebecca Janni, Iowa Member, First-Time Author,
Dutton Children's Books
Lynn Avril, Illustrator
Register for one program, two, or all three
Friday's Workshop 2-5 P.M.
Saturday, General Session, 8:30 A.M.-4:30 P.M.,
Sunday, 8:45 A.M.-11:45 A.M.
www.scbwi-iowa.org/Oct.%202009%20Brochure.pdf
When:
November 7, 2009 from 8:30 am until 5:00 pm
Where: St. Charles Community College

Sessions:
The Art of Children's Books
An Illustrator's Life
Group Portfolio Review
Floyd Cooper has illustrated more than fifty books. He has won a number of honors, including four Coretta Scott King Awards.
Session:
On Egmont Books
Greg Ferguson is the editor at Egmont USA. Egmont is one of the largest publishers in Europe with activities in 23 countries. Their first list of 15 books will publish in fall 2009. Greg's primary acquisition interests include boy's adventure fiction, middle-grade ghost stories, horror novel (or series) for tweens, edgy and realistic YA fiction, and humorous stories for middle-grade or tweens.
Session:
On Andrea Brown agency
Jen Rofe is an agent with the Andrea Brown Literary Agency. Jen handles children's fiction projects only, from picture books through young adult, and is particularly interested in literary, multicultural, offbeat, paranormal, and commercial-with-heart material. She enjoys magical-realism and reality-based fantasy; ghost stories (though not gore); stubborn characters who learn lessons the hard way; and unassuming heroes and underdogs.
Session:
Establishing a Writing Career
Sue Bradford Edwards is an editor, writer, and book reviewer who lives and works in St. Louis, Missouri. Sue is the Managing Editor of 21st Century Family, a virtual magazine for families of all kinds. She is responsible for locating and editing content and now understands the editorial phrase, "I'll know it when I see it." As a writer, her work has appeared in Children's Writer, The Children's Writer Guide, Children's Writer's and Illustrator's Market, READ, Ladybug, Young Equestrian magazine, The Gaited Horse, and the St. Louis Post Dispatch.
Session:
The Business of Writing
Judy Young is an award-winning children's author and poet who specializes in school visits and writing workshops for students. She also speaks at events such as children's literature festivals and young author conferences as well as conducting poetry writing workshops for elementary and middle school students nationwide. Judy is also a frequent featured speaker at professional educational conferences nationwide as well as for individual school districts' professional development workshops and school in-services.
Session:
Creative Writing Workshop
Leslie Wyatt
is a solid and enduring writer who delights in bringing the commonplace to life and in putting words to the undefined. Leslie has published well over 100 articles for children and families. Her work appears in numerous anthologies. Her most recent book, Poor is Just a Starting Place.
scbwi.org/Resources/Documents/MOSCBWI_09Brochure.pdf
SCBWI-Illinois'
Fifth Annual Prairie Writer's Day
Brick by Brick: The Architecture of Our Stories
WHEN:
Saturday, November 14, 2009
9:00 a.m. – 6:00 p.m.
(registration to begin at 8:00 a.m.)
WHERE:
Harper College
Wojcik Conference Center
1200 West Algonquin Rd.
Palatine, IL 60067



Panelists Worthy of a Pedestal:

Stacy Cantor – Associate Editor: Walker & Company
Nick Eliopulos – Associate Editor: Random House Children's Books
Alisha Niehaus – Editor from Dial Books for Young Readers
Yolanda LeRoy – Editorial Director: Charlesbridge Publishing
Cynthia Leitich Smith – Award-winning author and Vermont College faculty member
Michael Stearns – Agent and Founder: Upstart Crow Literary

Focus on Formats:

This year's Prairie Writer's Day will focus on four formats: picture books, middle-grade novels, young adult novels, and nonfiction.

In each of these formats, the essential building blocks are character, plot, and voice. Yet each format is constructed differently. Issues such as space restrictions, language, and pacing require writers to wield their tools differently. Our distinguished panel of speakers will help us to explore the construction of each format.

Cynthia Leitich Smith, an author who is published in a variety of formats herself, will share her writer's story and provide us with blueprints for the day.

Then each editor, in a keynote speech, will address the unique demands of a particular format: Yolanda LeRoy (picture books), Nick Eliopulos (young adult), and Stacy Cantor (nonfiction). Michael Stearns will speak to the joys and challenges of representing authors across formats.


www.scbwi-illinois.org/Programming.html#1stDate



AND LAST BUT NOT LEAST, ADDED SUPER-DUPER BONUS!!!



The Missouri Literary Festival

The Missouri Literary Festival, a celebration of arts, literature and literacy, will be held October 2, 3 and 4, 2009, at Hammons Field and The Creamery Arts Center in downtown Springfield, Missouri.

Tickets are $5 for ages 11 and up. Children 10 and under get in free.

Stuff for writers, stuff for readers, stuff for kids, teens and adults.

A marathon reading of To Kill a Mockingbird.

Singing, dancing, dogs, and a ukulele.

www.missouriliteraryfestival.org/


I wasn't banned. Not technically. Because I think, in order to be considered banned, you have to first be on the shelves or in the curriculum, and then challenged and unceremoniously booted out. But it doesn't sound as glam to say, "I was pre-selected out." But I guess that's what I was.

The long and short of it is this. I received an email from a junior high school teacher, informing me that she read my book and really enjoyed it, but that she would not be able to share my book with her class, because parental pressure in her school district disallows books that use the f-bomb. She said she had to "eliminate" my book, which sounds very final, does it not?

Okay. Fine. I'm out. Nothing I can do but move on.

But as ridiculous as I think it is for a parent to assume that a 12-year old is not familiar with the f-bomb, that's actually not the biggest concern that I have over this issue.

The bigger concern is this -- Hate List uses the f-bomb exactly five times, all in places that are wholly appropriate places to use the f-bomb (in other words, I'm not just detonating them here and there and everywhere for shock value). But the overall theme and message of the book is very positive. The tone is hopeful. The message is about acceptance and reaching out and courage and friendship and all that good stuff that, generally-speaking, parents don't mind their kids reading about. So in 400 pages of good message, there are five "bad" words... and yet some parents are okay with keeping the good message out of their children's ears for fear that they may only hear the five f-bombs.

Ridiculous.

As if to confirm my thoughts on this subject, over the weekend I received an email from a student who used Hate List for a book report assignment. She sent me the report she wrote. It was beautiful. Spot-on. Lovely. Perfect. She really got the point of the book. But what's even better... she also said this:

"...I had to express this beautiful connection I had with your character. And you've really inspired me to go with my gut about my career choice. I want so badly to write. And if I can make the difference you and Hate List made for me, i may feel as if I've contributed something to this messed up society."

Hmmm... sounds to me like those f-bombs didn't exactly corrupt this child. In fact, I would venture a guess that they may not have even really been noticed.

I wonder if she'd be pursuing that writing dream if her school had pre-selected Hate List out because of a few bad words. I wonder how many parents would change their minds about those five f-bombs if they talked to her about her experience. I wonder if any parents might regret that their child had missed an opportunity to be inspired because a bigger, stronger, louder parent decided for them that the book was unacceptable for their child to read. I wonder if they would realize that you never know what book will have this effect on their child. That you never know, it may be one of those "naughty" books that really speak to that child, and in a positive way.

Hmmm... I wonder.
Like many writers, I've been taking advantage of Banned Books Week to make my thoughts known on the subject of book banning and censorship in general. I participated in a lengthy (and at times quite heated) discussion on a local mom site about the pros and cons of banning books (are there pros? They tried hard, but they never convinced me). I tweeted and Facebook statused about it, encouraging friends and followers to support banned books by reading one this week, and also making my outrage over Ellen Hopkins' recent banning from a Norman, OK school known. And I blogged about my own brush with banning.
* Have something attention-getting at your signing table--it makes a great conversation piece. I have a stuffed chicken that squawks anytime someone picks it up by the neck.
* Come up with a craft that ties in with your book. Make sure it's fairly easy, not too messy, and fun. If it involves copious amounts of glue and glitter, find a different craft.
* Have something inexpensive to offer the people who stop by the table. Examples include candy, tattoos, and bookmarks.
* Smile. Look like you want to be there not like you are mentally prepping for a root canal.
* Consider having a sign-up opportunity. In exchange for a name and email address, you can offer to send out behind-the-scenes information, book news, and activities that tie in with the book such as word searches or readers theater scripts.
* Don't anchor yourself to your chair. Stand up. Walk around a little bit. Be visible.
* Be prepared for anything. If you suddenly hear over the intercom system that you are going to be doing a reading at the back of the store, then give the crowd your best. Not only read your book, but PERFORM it a little bit. Be engaging. If possible, be funny. Consider building some storytelling/jokes/audience participation stuff into your bookstore readings.
* Be ready to answer the pressing question: "Where's the bathroom?"
* When you're signing a book for someone, engage in some conversation. If you have a brain freeze, you can always go with the simple, "Who is this book for? How old is he/she?" Then talk about the awesomeoness of that recipient.
* Realize that sometimes bookstore signings don't result in many--if any--sales. Be okay with that. If nothing else, at least you will come away from the experience with a story to tell. "And this one time, at a book signing..."
Tammi Sauer, Oklahoma
http://www.tammisauer.com
http://www.elvispoultrybooks.com
Need some tips on how to handle your upcoming book signing? While these suggestions are primarily geared toward picture book people, many of them can be applied to novel people as well.
Your first sellable novel.
Yeah, I'm there. I'm writing it right now—my third manuscript. I remember the moment when I knew, like it was yesterday. It was at critique group, and Fearless Leader had just finished reading my chapter-of-the-week.
And there was dead silence.
I looked up from my copy of the manuscript, and everyone was looking at me like they'd never seen me before. And I had that little roller-coaster feeling in my stomach.
This story was going to be different.
Today, I start a complicated chapter. Of course, I can't wait. I know these characters really well now and love them dearly. So I want to write them a really great story.
Sure, I have high hopes for my WIP—that it will be published and widely read, blah, blah, blah. But as I wrote--oh, just last week--the highest achievement would be if someone tried to ban it from a library or school. And not because my book had the word "crap" in it, but because it was full of ideas too true and close to the bone.
Gosh, what a coincidence. Banned Books Week is coming up, September 26 - October 3, 2009. Go here:

http://www.bannedbooksweek.org/
Celebrate with me, and buy a banned book.
Lisha Cauthen recently revamped her blog so it's easier on the eyes: lishacauthen.wordpress.com
.
And lawsy, what a tweeter: @lishacauthen

.

She is the inescapable editor of the Sunflower Scoop, informational newsletter of KSCBWI, find out how to sign up here: sunflowerscoop.wordpress.com
.
Currently, she would rather be writing about the drama of Homecoming than living through it. Although she did score a three-dress deal for $36.00 at Dillard's, over at Ward Parkway. So she's set for Sadie Hawkin's too. Although there's still those shoes to get. And a wrap of some sort...KILL ME NOW!!!
You know how you get that certain, tingly, light-headed, poised-on-the-edge-of-the-cliff feeling when you've finally stumbled across the right one? Your senior prom dress…your first home…your one true love…
Now this was once upon a time. Not fairy tale once upon a time, but once upon a time in my writing experience. Sure, I'd cranked out several novels, but I still didn't know enough to prevent me from doing what I did.
I was excited about an upcoming novel revision retreat with the amazing Darcy Pattison as a leader. but I wasn't excited about working on any of the few novels I had in the hopper. As I remember it, most of them were circulating through various publishing houses, and I was sure I'd get The Call any day. So two weeks before the retreat submission deadline I decided to put together something new.
For the next ten days, I did nothing but pound out a 38,000 word novel. For the four after that? I revised. Now, when I say, "I revised," I mean I toyed with sentences and words and commas. Then, on the last day possible, I mailed those copies of SILLY (yes, that was the first word in the title) to the women who would be my critique group for the weekend.
Finally ... retreat weekend came, and I was itching to work on SILLY again, ready for real constructive criticism, hungry for meaty stuff I could ponder.
I strode to the table to claim my pre-critiqued manuscripts pages. Meaty comments? Not exactly. I kept seeng the same words ... tighten, tighten, tighten.
And as the weekend went on, it became abundantly clear that I'd just wasted an opportunity on a slapdash story when I had a perfectly well-worked book at home, one I'd given up on, one I still loved. I wished I'd brought in The Gollywhopper Games.
After that whirlwind romance with SILLY, I pretty much never spent time with it again. It lingers on a disk somewhere. Probably a hard draft, too.
There may be some moral to this story, lessons learned and all that, but the point is ... well, you can make your own point. I'm off to take some time with my next book.

Jody Feldman has always been able to write quickly which has saved her many times. You can find her at www.jodyfeldman.com.
Current Mood:

ready, set, write!
kidlit_kim
for the invitation to join this group! I'm looking forward to all the posts and know I'm going to learn a great deal.
Recently, I was thinking about books I'd loved when I was a kid, and why I'd enjoyed them so much. One of the favorites at our house was--and still is, actually--
The Monster at the End of This Book
. (That link will take you to a page where you can read the book online.) I'm the oldest of 7, so I had lots of experience reading and re-reading that one, and my nieces and nephews love it today.
I think one of the reasons the book appeals to kids is that it's interactive--and was before most people even understood what that term means when applied to fiction. It breaks the fourth wall and talks directly to the reader, and believe me, readers and listeners talk back!
But today I'm thinking about its ending, because I'm reaching the ending chapters in an extensive rewrite of my current novel project. As wonderful as the ending of TMATEOTB is for young readers--it surprises and reassures them to learn that the monster is just "lovable, furry old Grover"--I'm worrying that the monster at the end of my book isn't quite monster enough.
I've built up a lot of angst (and hopefully tension) throughout the story; Bad Things are happening to the characters from the get-go (that's easy enough to do, as I'm writing about the Black Death). So now my worry is, will the events of the climax seem bad *enough* in comparison with what's gone before? It's comforting for three-year-olds to discover that the monster is only Grover, but with older readers, they expect the climax to *up* the stakes, not reveal that there was never really a monster in the first place.
In this revision, I've tried to work on that--to raise the stakes, to add problems for the characters to deal with, to make them care about each other and the lives they have to save enough to make the situation feel more dire than it did in the first draft. And all those extra elements still have to be part of the story, and not feel as though they've been thrown in there just because I can.
I recently read a YA that fell apart for me in the final chapters because the piling on suddenly became too much, for me as a reader, to buy into--the pile collapsed and I was left feeling unsatisfied. And that's just as bad as finding out that the monster the story was building to was only Grover. So I want to be careful not to do that.
So much to "be careful" of...so much to worry about...such a fine line to tiptoe along.
Which brings me back to Grover. I don't want a Grover ending in my book, but I think over the past couple of months, as I've (slowly) rewritten my way toward this climax, I've done exactly what Grover does in the book--I've built all my worries and fears about my writing into a monster, and made rope nets and brick walls against the ending of the book in my mind, to keep that particular monster at bay.
They don't work--they never work. While it might be easier to not turn the pages and get to the end I fear, "easier" never got a rewrite finished ("easier" also never scored anyone an agent or a contract!). So, while part of me is Grover, begging and pleading my writer self not to turn the pages, not to see how badly I might fail (or succeed), the writer has to be stronger, has to turn the pages and see what happens in this ending, even if it's monstrous.
So that's my tip for the day: turn the page. Keep going. Trust yourself. We have to be aware of making our endings stronger, but we can't spend too much time worrying about them without facing them, or we'll end up just as embarrassed as poor Grover. Make your story monsters strong, and turn the pages past your own fears, so that in the end your inner Grover can ask your writer self, "Did you know that you are very strong?"
Mary Pleiss lives in Omaha, Nebraska, and writes YA and MG historical fiction and fantasy--sometimes all four at once.
First of all, many thanks to
I had the opportunity to meet Molli Nickell, the Query Wizard--
a publishing coach and former Time-Life editor (www.getpublishednow.com)
, at a one-day workshop last year in Birmingham, Alabama, in conjunction with the Southern Breeze SCBWI Conference. Molli's workshop concentrated on writing an effective query letter and synopsis.
Her first advice was to break your story down:
WHO WANTS WHAT?
WHY?
OR ELSE?
This is the plot in short order: GOAL, OBSTACLE, RESOLUTION.
An author must be able to condense her book into this format to successfully convey the uniqueness of her story to an editor or agent.
Ms. Nickell's Marketing Intensive Workshop was a WORKshop. With her spirited and fun style, she guided us through a whole day. She helped us take apart our stories. We pared them down to the bones, looking for the GOAL, the OBSTACLE, and the RESOLUTION. Then we wrote a sentence for each--this, Molli told us, should be the opening paragraph of our query letter for an agent or editor.

Molli says a writer has only 20 seconds to catch an editor or agent's eye in a query letter. Short and to the point--but highlighting the author's unique voice.
An overworked, beguiling young lady wants to attend an elaborate party to be hosted by the local prince, who is on the lookout for a princess-to-be. Her three evil and ugly step-sisters team up with their manipulating mom to keep her stranded by the chimney side on the night of the gala. The petite-footed young lady wastes no time joining forces with her enchanting fairy godmother and makes it to the ball in style, sporting the shiniest slippers in the kingdom.
Stripping a story down to its skeleton isn't always easy. You may think you need a fairy godmother to perform magic like that, but you don't. You just need some practice...and maybe a pair of super shiny shoes.
For an opportunity to hear more words of wisdom from the Query Wizard, join Molli Nickell at
THE QUERY CLUB
.
You'll receive a free 31-page query lett
er mini-workbook, a newlsetter filled with tips, and chances to join in online chats with Ms. Nickell.

*****



Cynthia Reeg, a former librarian, has writings which have appeared in HIGHLIGHTS, FACES, MY FRIEND and other magazines and anthologies. Her picture books, KITTY KERPLUNKING, DOGGIE DAY CAMP, HAMSTER HOLIDAYS and GIFTS FROM GOD are available from Guardian Angel Publishing. Her story, "The Emily Explosion" is part of THE GIRLS, available from Blooming Tree Press . Her story, "BF's & Butterflies," will be in the upcoming VOLUME II BEST OF STORIES FOR CHILDREN MAGAZINE. For more information on Cynthia, visit www.cynthiareeg.com





Banned Books Week
is September 26 through October 3 this year. Which gives me the perfect opportunity to discuss one of my writerly goals.
Someday, dear
Fairy Godmother of Authors
, I want to write a Banned Book.
1. I will of course, be in wonderful company: The Chocolate War by Robert Cormier, Hatchet by Gary Paulsen, Harriet the Spy by Louise Fitzhugh, A Light in the Attic by Shel Silverstein, The Catcher in the Rye by J. D. Salinger,
etc.
In order to get on the banned book list, you have to be able to stir emotion and debate. Only talented writers get on The List. (Yeah, I'm gonna be kewl enuff to call it "The List".) It's kind of like winning an award.
2. Talk about a marketing coup! Guaranteed coverage by Publishers Weekly, newspapers, SCBWI outlets, library journals, school digests, first amendment promoters, blogs, Twitterverse... hearings, marches, protests, riots. Oh, the glory! Power to the people!
3. Being on The List means people will talk about The Issue. The one I wrote about that disturbed them so deeply. Which means I will be on The List for writing about the stuff teens need to talk about--but adults would rather they didn't. Funny thing is, I don't write about issues. I just write a good story. I will, however, be greatly disappointed if I get on the Banned Books List just for saying "boobs".
4. Last of all, you silly, silly, banners, any teacher or parent can tell you: the surest way to get a teen to do something is tell them they can't. Forbid my book to them in the strongest terms possible. Threaten them with perdition. Please.
I could use the money.
Lisha Cauthen writes freaky YA books for boys that make her critique group gasp and blush. She blogs here, at lishacauthen.wordpress.com
and edits the off-kilter KSCBWI informational newsletter Sunflower Scoop. Go here for a sample and to see how to subscribe. IF YOU DARE. She is also a member of the accomplished group of writers known as HWKT. Okay, fine, she's pre-published. But she's getting close. Really, really close. Find her in the twitterverse as @lishacauthen and wonder how you got through your dreary days before you did.
One of the joys of being a children's book author lies in the knowledge that your words have the power to encourage budding scientists, entrepreneurs, and yes, authors, to follow their dreams. Several years ago, a man sent me email thanking me for writing Stella Brite and the Dark Matter Mystery. His daughter, who was in middle school at the time, was a big fan of Philip Pullman's His Dark Materials trilogy. She read my book because she wanted to learn more about the science of the dark matter in Pullman's books.
The three of us kept in touch over the years. Fast-forward to the past month. She's looking at colleges now, and wants to be a writer. She's got talent; I've read some of her work. She and her father email me to ask about good college programs for aspiring writers. I give her what advice I can, and I'm feeling really happy—I can't wait to see this girl's writing career take off! A few days later, dad emails me again, this time with discouraging quotes from another acquaintance, a college creative writing professor and poet. Publishers care only about making money, you have about as much chance of getting published as winning the lottery, poetry and fiction are both dying mediums, etc. You've heard it all before. Oh, and he also dissed genre fiction ("sci-fi, romance, teen vampire stuff"). Do you want to seek out this guy and slap him? Me, too. Writing is a difficult enough business without nay-sayers like this. What we need are more mentors.
I think that most writers, published or pre-published, can think of at least one person who nurtured their talents, taught them the craft, and encouraged their efforts. Your mentor could be a teacher, or someone in your local writing group. You may find him or her online. Here are a few authors who have helped many aspiring writers realize their goals:
One of my dearest mentors is Anita Riggio (http://www.anitariggio.com/ ), my thesis advisor in the low-residency MFA in Creative Writing program at Lesley University. And now she's started an online mentoring and revision program, at http://www.covesidewritingworkshop.com/.
Darcy Pattison, who came to Champaign-Urbana earlier this year for our Novel Revision Retreat, also has a terrific online program, at http://www.darcypattison.com/.
And I have to give a shout-out to the contributors of the new Teaching Authors blog, April Halprin Waylan, Carmela Martino, Esther Hershenhorn, Jeanne Marie Grunwell Ford, JoAnn Early Macken, and Mary Ann Rodman--mentors all. Esther, who recently stepped down as the Illinois SCBWI Regional Advisor, has a new book out: S is for Story: A Writer's Alphabet. It is a must-read for any aspiring author, young or old!
So, give it up for the mentors who give us the courage and the tools to write! Who encouraged you? Tell us about him or her in the comments.

Sara Latta lives and writes about science in Champaign, Illinois, and is working on a YA historical novel.

Current Mood:

grateful
MPR photo/Euan Kerr
I met Heather Bouwman earlier this year at a children's literature event in Minneapolis. I wasn't familiar with her debut novel, The Remarkable & Very True Story of Lucy & Snowcap, when I arrived that morning, but after meeting Heather, seeing the beautiful cover art for her book, and hearing other folks talk about this remarkable debut, I couldn't wait to read it. I had the pleasure of doing just that a few weeks ago, and I'm on board with Kirkus Reviews which calls the novel "a remarkable and very true debut…beautifully written, fully realized, fast-paced—this blurs the line between fantasy and history and has winner written all over it."
I'm so pleased to be interviewing Heather today. But before we begin, here's a brief summary of The Remarkable & Very True Story of Lucy & Snowcap (from the jacket flap):

Set on fictional islands off northeast America in 1787, this story features two twelve-year-old girls from different cultures – one a native islander and one English – who join forces on a journey to save themselves, their people, and one special baby. It is part historical (based on convicts who were sent to the Americas before the Revolutionary War and Australia's history) and part fantasy (the land holds magical properties). Above all, it's a captivating adventure in the tradition of The Princess Bride – with shipwrecks, curses, chases, murder plots, kidnapping, rebellion, narrow escapes, magic (of all kinds), romantic legends, thieves and politicians (sometimes both), a caring school teacher and a handsome horse groom, a pair of feisty (sometimes difficult heroines, and the mysterious power of storytelling at its center!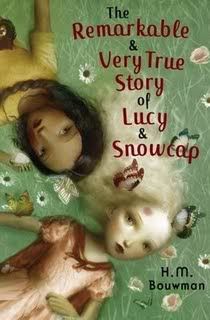 Please join me in welcoming Heather Bouwman to KidLit Central.
Julie: Hi, Heather! Thanks for being with us today. I've read your book and I'm happy to report that all the nice things people are saying about it are very true!
Heather: Thank you! It's great to be here at KidLit Central—thanks for inviting me.
Julie: Before we begin talking about Lucy and Snowcap's story, I wanted to say how much I love the cover art for the book. I think it's absolutely lovely and marvelous in that it holds several small (but significant) details that my eye didn't catch at first glance. How did you feel when you saw the art for the book?
Heather: Well, here's the dementedness of human nature for you: I was initially a little disappointed. I'd been envisioning Garth Williams-style line drawings or (even better, I thought) an eighteenth-century style cover with fancy gold lettering and no illustrations. (Yeah, I'm not a marketing person….) But about ten minutes after I saw the cover, I started to like it—and people keep telling me how much they love it. So I'm very happy with it. The artist, Nicoletta Ceccoli, has done quite a few children's books and is a very talented artist.
Julie: The story takes place in 1787 on a cluster of thirteen islands off the New England coast where three British ships, carrying convicts, shipwrecked in 1775. What about that particular time period appeals to you?
Heather: I wrote my dissertation on colonial American literature, especially texts by and about Native Americans. I've been long interested in the literature of exploration and colonization—which certainly fed into this novel. Then, when I was researching my dissertation, I wandered off on a tangent reading about convict transportation to the American colonies—none of which made it into my thesis. But I knew that somehow convicts had to be an important part of the novel.
Julie: The islands' original inhabitants – the Colay – are forced to live on tiny Sunset Island after the British overtake the large Island of Tathenn. Tell us a bit about the islands and how the setting came to be.
Heather: The setting is loosely based on my brief experiences living on the Apostle Islands (in Lake Superior)—first for just a few days to visit a friend who was volunteering for the Park Service there, and later to volunteer there myself for a few weeks. (When I volunteered, I lived in a snug one-room cabin on Manitou Island surrounded by raspberries and serviceberries, and I gave tours of the historic fish camp there. I also cleaned the island's vault toilet; volunteer work does have its minor downsides.)

I love islands. Not tropical paradise kinds of islands—though these are great, too, I'm sure—but big woods, cold water kinds of islands. Islands with eagles and bear and old growth forest, islands where you swim at the risk of hypothermia.

The islands in the novel are completely made up, of course. But for me, at their core they resemble the Apostle Islands.
Julie: As the title suggests, portions of the novel are "very true" and other portions are "remarkable." Historically speaking, in what ways is the novel very true?
Heather: There really were convicts who were sent to the American colonies in the 1700's—in some places (most notably Virginia) these convicts were a substantial percentage of the white settlers; and they've been largely ignored in American histories. I wanted to bring back their memory. And many of the convicts in the book (Philip, Snowcap's parents, Adam's grandmother) were modeled in part on real convicts.

But the novel is fiction, of course, and not meant to be historically accurate. As for how it portrays colonization, it's more alternative history than historical fiction—a "what if" kind of story.
Julie: The story is also "remarkable" – indeed, fantastical. Tell us about the fantasy-elements that are woven into Lucy and Snowcap's story. When you began writing the book, did you imagine that it would contain both history and fantasy, or did one element (or the other) emerge as the story developed?
Heather: The book started as straight fantasy—there were no convicts, no English, just Lucy and her island village and this baby boy who was turning to stone. Pretty quickly I realized I didn't know why the baby was transforming, or exactly how Lucy was going to save him. Luckily, I was reading about convicts at the time; and one thing led to another….
Julie: Speaking of Lucy (a Colay native), here's an excerpt that introduces her to the reader, followed by an excerpt that introduces Snowcap (destined to be Governor of the islands' British inhabitants):
At her birth, Lucy had been touched by a ghost – or something even more otherworldly. Everyone (except her father) said so. As proof, she had a birthmark on her face that was the exact shape of her grandmother's hand. Everyone (even her mother) said so… the mark was raised and rough and looked like a slap. Lucy's mother said a caress, but almost everyone else thought: a slap. (From page 20)
Most days were good days for Snowcap. She was clever, rich, powerful, and pretty – everyone told her so. Even the little mark above her right eye was called an angel's kiss rather than what it really was: a birthmark. She was special, and special people, she had learned, had allowances made for them. Particularly special people whose parents were dead. Particularly special people who would be Governor one day. (From page 38)
When the girls' paths first cross, they heartily dislike each other and see their journeys as separate and distinct. What would you say the girls are searching for, individually and collectively?
Heather: I'd say they're both searching for love, though neither of them would admit this at the beginning of the book; I'm not sure they'd even admit this at the end of the book! They want to know that they are loved and important and special—just for being themselves, just as they are.

They also both want, in a sense, restitution: Lucy for her people's mistreatment, and Snowcap for her parents' deaths. But restitution—and its shadow twin, reconciliation—is something they can only find together, collectively; it can't be gotten alone. The trick for me was to get them to work together and to trust each other without forcing them to be friends—because I really don't think they'll ever be bosom buddies.
Julie: What was the research and writing process like for you?
Heather: Long! When I began writing I had no idea what I was doing or how to write a book, and I wrote a draft and pretty much shelved it away for years. When I moved to Minnesota—and especially after I had my second child—I got more serious about my writing and revised the book and started sending it out. But I think my growth as a serious writer didn't begin until I connected with other writers—at The Loft Literary Center (in Minneapolis) where I took classes and participated in the Mentor Program there; by joining SCBWI and the Children's Literature Network; by joining a critique group; and by networking with other writers and learning from them.
Julie: And your path to publication? What was that like?
Heather: Again, long—but good. When I sent the manuscript to Marshall Cavendish, it was on the basis of an interview I'd read with Margery Cuyler; I thought she sounded nice, like someone who'd send a kind rejection letter! And her assistant did, in fact, respond with a rejection—and it was kind—the nicest rejection I've ever gotten. After telling me (for over a page) all the things they didn't like about the novel, the assistant said something like this: If you'd like to revise and resubmit, we'd be happy to look at the manuscript again. Wow! So of course I did that, and then I heard back from Robin Benjamin, who was later to become my editor, who wrote to say that she had some comments for me and would I be interested in receiving them? I said, "Of course!" And then Robin sent me copious line edits as well as a longish editorial letter; and I did another round of revisions. THEN I received a contract from Marshall Cavendish—almost two years after I'd originally sent them the manuscript. After that: more revisions. The short version of the story is that the manuscript was taken off the slush pile; but the reality is that I had to do a lot of work to move from the slush pile to the contract. But it was well worth it; the book is FAR better because of Robin's careful and insightful editing and my subsequent revisions. Robin is a dream editor.
Julie: Well, now we know who your favorite editor is! How about your favorite authors?
Heather: There are so many…! Among children's authors, one of my favorites is Joan Aiken, and in Lucy & Snowcap there are moments where I felt like I was writing an homage to her. I love Aiken's sense of alternative history—and I first learned what an oubliette was from reading The Wolves of Willoughby Chase. But I have other favorites authors, too (not in any particular order): E.B. White, Edward Eager, E. Nesbit, Christopher Paul Curtis, Gary Schmidt, J.K. Rowling, Frances Hodgson Burnett, Roald Dahl, M.T. Anderson, Shannon Hale…I could go on and on.
Julie: (Note to reader: An oubliette is a hidden dungeon with a door in the ceiling as its only opening. You'll find one in Lucy & Snowcap too.)
How have your favorite authors/novels influenced your writing?
Heather: With Lucy & Snowcap I was trying to write a multi-plotted novel (think Dickens) as well as a story with an intrusive narrator (think Princess Bride)—though the narrator got toned down a lot by the final version of the novel. With my more recent writing I'm trying to be more spare, more E.B. White. I'm starting to realize—what my dissertation director tried to teach me so many years ago—that more words aren't necessarily better. And I'm trying to be funnier—which is a lot harder than you might think.
Julie: Think it, know it, live it. :) Do you have any words of advice for those who are interested in writing historical fiction, fantasy, or both?
Heather: With both fantasy and historical fiction, one could keep researching and outlining the world of the book forever. At some point you need to stop doing that and just start writing. Write. Trust that when the time comes you'll have the information you need.
Julie: Aside from writing novels for children, what other interests keep you busy?
Heather: I like to read….! I also spend a lot of time hanging out with my two sons. I practice a traditional Korean martial art. And I work full-time: I'm a college professor—I teach literature and writing at the University of St. Thomas (in St. Paul, MN). There are a lot of other things I like to do, too—cook, travel, watch movies, count the stars, clean house—but I rarely have time to do them, mainly because I need to sleep. Okay, I'm lying about cleaning house. I don't like cleaning, and I'm GLAD I'm too busy to do it….
Julie: Busy is right! But, thankfully, not too busy to give us such a captivating novel. Do you have any new writing projects in the works? What can we look forward to from you in the future?
Heather: I'm working on two very different projects right now—a young adult historical piece and a short, contemporary novel for younger readers. I hope you'll see one or both of them sometime soon!
Julie: I'm sure we will, Heather! Thanks again for sharing your story with us. We wish you and Lucy & Snowcap much happiness and success!
Heather: Thanks so much, Julie!